10,000 Miles....Peking to Paris 2010
Local Product makes its way around the world one dusty mile at a time.
Fifth Avenue Antique Auto Parts located in Clay Center is well known in the antique automotive circles for their participation in the Great American Race (a 4500 mile race across the United States) and their work with the movie studios. Now that list is getting a little longer with their involvement in the Peking to Paris Car Rally.
History of the Rally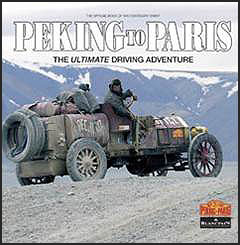 In 1907 the first-ever trans-Continental motor-rally between Peking and Paris became an epic challenge between a Prince and a Pauper – Prince Borghese had the best funded entry and carefully researched the conditions of setting out on a journey where the first 5,000 miles saw no roads, at all, so, no maps and no garages. His chief rival was a fairgrounds worker who until he read news of the race in a Paris newspaper, Le Matin, picked up blowing in the wind, had never even sat in a motorcar, so had no idea how to drive one.
Five cars set out from Peking, four made it to Paris to a tumultuous welcome and world-wide fame – they had set out to prove that man and machine could now go anywhere, they hoped it would make borders between countries redundant. They had left Peking with no passports – these had been confiscated by Chinese authorities, who suspected they were spies, and had no interest in seeing the success of the motorcar having just invested in shares in the trans-Siberian railway.
The second Peking to Paris was not held until the summer of 1997, when on the 90th anniversary, the first-ever rally for classic and vintage cars was created to cross China, and the first-ever rally to cross Tibet. Entrants camped at the foot of Mount Everest, and cracked open the border between Tibet and Nepal.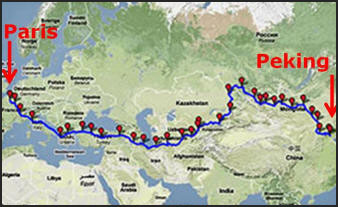 The border at Friendship Bridge between Tibet and Nepal had been closed for 40 years since it was slammed shut by Chairman Mao – the 90th Anniversary Peking to Paris negotiated the re-opening, it remains open today, the cars drove into India and Pakistan, and were the first rally to cross Iran since the 1977 London to Sydney Marathon.
Lloyd Dahman of Chestnut Hill Mass entered the 2010 Peking to Paris Race with his 49 Cadillac. As Lloyd explains…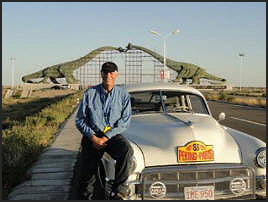 I sought Randy out based on his reputation for knowing how to prepare antique cars for a rally like this. The word among the antique car rally people is that Randy knows what he is doing and the specialty parts he builds for these cars will exceed your expectations. I researched Randy and his company further and found out he was successful in the 2007 Peking to Paris Race…I knew I had found my man.
"Even though the choice of our Cadillac sitting in the parking lot of the Hotel Shangri-La in Beijing may have appeared to have been a poor one, its 7 inch thick frame nonetheless allowed all of its tender bits and pieces such as the muffler to be tucked up out of harm's way. The Cadillac's suspension was simple and of the same robust design used on other much heavier Cadillac models that year. The overhead valve V-8 engine, new that year, was truly under-stressed as demonstrated by the fact that later in the 1950's, Cadillac extracted nearly double the horsepower from essentially the same engine design.
However, there were some things we just had to live with: principally the car's weight, and its overall size, as well as drum brakes that faded at the end of most timed sections…"
| | |
| --- | --- |
| These are the "good" roads. The black spot(at far left) is actually a car. Notice all of the different paths to avoid the road hazards. | Day two offered Day two offered up one of the many, water crossings to come. The truck was there just in case and got quire a workout. |
To put things in perspective as to how difficult the route really was…we encountered the first of many water crossings on day two.
"The second day was extremely difficult day for everyone – rally organizers, competitors and equipment. Dozens of cars suffered varying degrees of damage and even one of the organization 4x4s had to be towed. Apparently the roads had recently suffered extensive damage and with such vast areas to cover, I doubt they ever actually repair them, which means you are on your own to figure out a path that does not lead to self-destruction…"
Lloyd and his partner kept a daily diary and posted updates on their website (www.pressonregardless.com) of their progress. Following is a typical daily entry….
"We stayed last night at Abant lake and when we arrived it was totally fogged in but this morning, while it was not clear, we could see what the place had to offer – and it was quite spectacular.
Oh yes, if you read the official itinerary, this is a "rest and transit day". That means there is no timing but we still have to drive 352 kms but don't have any start or finish time and we made the most of it.
The pictures don't come close to showing the mud we had collected (and might still be carrying in the far corners of the undercarriage. I would estimate we were about 100 pounds lighter after the wash.
Prior to getting on the motorway, we stopped for gas. I guess we bought enough (at $12 / gallon) to justify a car wash – or should I say pressure wash.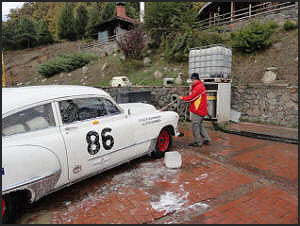 The poor guy had to go over the car four times to get the mud off and, even then, we still had some in the remote corners.
Of 107 cars that started the 2010 race all but nine made it to the celebrations in Place de la Concorde. TV film of the epic drive has been seen in more than 80 different countries. In New Zealand, the Peking to Paris rally became part of the school curriculum for children who followed the adventures of the mad motorists as part of their geography lessons.
Just as in the original race there are no roads in the Gobi Desert. Today's entrants are led by GPS and line of sight. You have to pick your own route by dodging giant potholes (created by the wind and blowing sand) that can literally swallow whole cars, and staying out of the huge ruts created by the Russian truck trains. Then there is the blowing sand that clouds your vision, and the lack of any permanent landmarks. And that is just the beginning of the hazards. There are the water crossings (some quite deep), and the wandering sheep to deal with, along with Kamikaze motorbike and car drivers in the cities. All in all it is quite an adventure.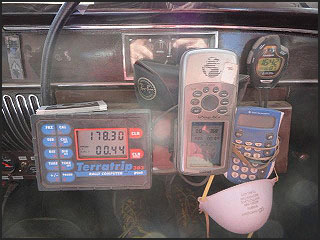 If things look a little dusty they are. Lloyd loaded over 900 checkpoints into the GPS to be sure they always were on track.
"No summary of this event would be complete without some comments on the organization and execution of the event itself. Personally, I think few people would have any understanding of the complexities involved in producing as challenging and extensive event as the Peking to Paris Motor Challenge.
We visited eleven countries, most with their own political structure and issues – we crossed eight borders each having their own processes and procedures– there were over one hundred competitive cars and almost twenty organization vehicles – two hundred plus competitors (all with Type A personalities) and almost fifty organization staff – spent seven days camping on the Gobi Desert and stayed in a variety of hotels (some quite luxurious and others, well who could forget the sanatorium in Turkmenistan) – destroyed some cars, trucked others and gained replacements from multiple sources – somehow, everyone was accounted for when we reached Paris…. "
-- Lloyd Dahman
The Fifth Avenue involvement….
Randy's involvement with the cross county antique car rally type races goes back to 1989. He used the cross-country races like the Great American Race ( a 4500 mile race across the United States) as a marketing tool to prove the reliability of his new invention, a 6-volt alternator, which did not exist up to that point.
Since then his continued involvement led to the development of more than 40 specialized products that make all antique cars reliable enough to be driven most anywhere the owners decide to drive them.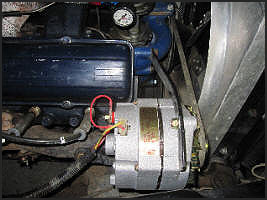 Fifth Avenue's alternator, installed on the 49 Cadillac. It never looked this clean & shiny again!
 Upon his return from the race and after a much, needed rest, Lloyd called Randy to say thanks for a job well done and followed up with this letter….
Dear Randy:
You can chalk up another successful Peking to Paris Endurance Rally for one of your alternators and cooling fans. They both functioned flawlessly for all 37 days and 9,000 miles through some of the toughest conditions imaginable. When we picked up the 1949 Cadillac from the warehouse outside Beijing, the battery was flat because someone had left the ignition key on during shipment from Los Angeles.
A quick battery jump got us started and after 40 minutes driving in horrendous traffic the battery showed a voltage indicating more than half charged. We never looked back, and never worried about electrical problems even though we were running several computers and sometimes headlights, windshield wipers, and the heater blower motor. I have attached some pictures.
I am also returning the alternator, dust and all, by mail for your display. It has traveled around the world. We shipped the car from Boston to Los Angeles where it was put in a container for China. After surviving the drive to Paris, it made its way back by ship to Boston via Rotterdam. I am slowly removing the mud, dust and dirt from the car in preparation for our next adventure. Thank you for providing another alternator to take its place. Wherever we will be going, I have every confidence that it will be with a fully charged battery!
Best Regards,
Lloyd Dahmen
There were 107 entrants in the 2010 race with the oldest vehicle a 1907 Itala 40. Lloyd and his Cadillac finished first in his class and second overall.
"It is very satisfying when something you have invented and manufacture ends up on an antique car that travels thru some of the most difficult conditions one could imagine, and survives. Who would think of driving a sixty-year old car across the Gobi desert, forging water crossings, slipping and sliding up muddy, mountain passes, dodging sheep and crazy third world drivers...all in the name of fun. It makes the rest of the projects I work on seem pretty boring…" --Randy Rundle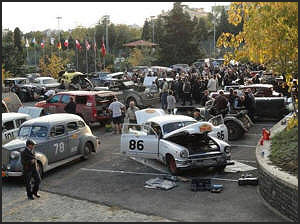 A day off in Turkey allows time for some much needed maintenance.
Lloyd's final thoughts…
"Looking back on our Peking to Paris adventure, a few specific thoughts come to mind. Obviously, the spectacular scenery, which rolled by one kilometer at a time, far outweighed the aggravation of border crossings, suspension eating roads, and the not insignificant dangers that we encountered. Persevering through one country at a time gave us a unique perspective on the social and economic forces at work in each as well as the prospect of oil and gas revenues and the presence or absence of water.
However, given my particular fascination with things mechanical, I also saw the whole trip as a constant battle of our machines for survival. The goal of driving into the Place Vendome under our own power pulled us unrelentingly onward. I was particularly fascinated by the problems some machines had while others made seemingly effortless progress. Some cars failed early, even before the start, others spent a large percentage of the 14,000 kilometers on flat bed trucks, and still others limped in, or were towed into camp and hotel parking lots, only to be hammered upon and made semi-operable by their crews and, more often by the incredible support mechanics.
Finally, there were a few cars that required only semi-routine maintenance, leaving their drivers and co-drivers time for restorative beers, showers and blissful rest. " I am forever thankful ours fell into that category.