In 2000 my wife Annick and I drove the London-Peking Rally in a 1950 Willys Over­land Station Wagon alongside the Silk Road and crossing the Taklamakan Desert. When we heard that in Switzerland the 1907 Peking-to-Paris Rally, the world's first intercontinental motor challenge was to be organized in 2007, we immediately decided to participate.
With all the good experience driving an American car, we restored a rust free 1950 Plymouth P-20 with the famous 6-cylinder flathead engine, originally from Lubbock TX. As in long distance rallies the electrical system is one of the most frequent causes of failure, all the old wiring was replaced, however maintaining 6V - as close as possible to the original equipment. So, a 6V alternator from Fifth Avenue was the perfect solution, combined with a powerful 140 Ah tractor battery.
June 10th, 2007 we started in Peking in a hot, sticky atmosphere, the sky was covered by dense smog. The roads were excellent but arriving at the borders of the Mongolia, everything changed. The sun was shining again, but soon even beaten tracks disap­peared and the pure nature, sand and rocks prevailed. After some 100 miles our shock absorbers failed and in the evening of the first day in the Gobi desert the oil pan was perforated by a stone and was repaired by Araldite until midnight. This repair had to be repeated by welding some days later.
This was our first and only incident during the 10'000 miles through Siberia, Russia the Baltic States and Central Europe. Eastern Russia is an unknown, fascinating country with important cities like Irkutsk, Novosibirsk or Ekatarinenburg and many young people open for all modern progress like space and aviation, com­puting and the Web. Transportation is mainly mastered by railroad - the famous, well serviced Transsiberian Express. In contrast, the roads are often incredibly bad with deep pot-holes caused by the melting permafrost, lack of maintenance and the heavy Kamaz trucks. Traffic is very hazardous with drunken drivers even in the morning (Vodka!) and extremely long, sleep-inducing distances. Fortunately we all had no mayor accidents or casualties.
On our Plymouth we only changed the shocks twice and replaced once the distributor points in Ulan Bator. Many of our other participants driving cars between 1907 and 1967 were less fortunate. On a much frequented road near the Lake Baikal the frame of a 1913 brass Rolls-Royce broke and was out of control. Luckily the driver and his co-driver could stop it in time. A Ford lost a wheel including the brake, suspensions broke in an Austin and an MG, engines failed frequently and electrical systems were repaired daily. From 26 cars, 3 abandoned and 3 continued their way on trailers. We arrived in Paris on August 10th, exactly 100 years after Prince Borghese and his Itala.
1950 Plymouth - The car was equipped with the following extras:
new front coil springs and stronger shock absorbers (didn't help much!)
anti-noise/(hot)temperature insulation (useful)
re-wired 6V-electrical system with alternator and 140 Ah tractor battery (perfect)
2nd fuel-tank (10 gal.) in the wheel bay (newer used)
roof-rack with tent and spare wheel (all Bridgestones - no better tires)
6-to-12V converter for radio/CD system, computer and walky-talky (a full 12V conversion would probably have been more intelligent)
The 1951 Cadillac 4-door Sedan Series-62 that we actually restore in Alsace/France we'll equip with a 12V-system including an alternator and a heavy battery. We must again renew all the hardened wiring, so, why not convert to 12V?
We'll need your help then!
Our next long-distance-rally will probably take place in 2010, starting in near Germany, going down the borders of the Danube and probably driving around the Mediterranean Sea.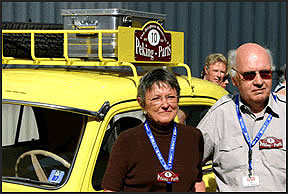 Hans F. Reinhardt, a Neurosurgeon in Basel Switzerland, and his wife Annick, purchased his P20 Special Deluxe 4-Door Sedan in early 2004. This car spent most of its life-time in Lubbock, Texas.
In 2000, Dr. Reinhardt and his wife Annick made the London-to-Peking Rally organized by the 'Classic Rally Organization' founded by Stirling Moss/GB. They drove a 1949 Willys-Overland Model 77 Station Wagon which, in spite of its weak 4-cyl. engine, mastered those very hard 10,000 miles along the Silk Road without major trouble. The Willys is now again in museum-condition. Dr. Reinhardt has already restored several cars, including the Willys and a 1929 Peugeot. He is not only a car enthusiast, but also a clockmaker.
The Plymouth transformation:
Plymouth baggage: Hans has to consider many things on this 10,000 mile endurance run. He will have to carry spare tires plus just about any other spare parts that he can fit into or on top of the car. Variances in the quality, octane (as low as 71 octane) and lead content will be wide as he travels through many countries along the ancient "Silk Road". This will provide quite a test for the old flathead. A rebuilt transmission with overdrive from George Asche will complete the running gear.
Plymouth cooler: Hans was able to find a brand new "Allstate" evaporative cooler - still in the box. These old "swamp coolers" use the principal of evaporation to cool air passing over a moist porous surface and are quite effective in hot dry climates.
Incidentally, other modifications to the car will include: an extra mounted fuel tank, roof rack, and a 6v electric ventilator.