Welcome to Fifth Avenue Antique Auto Parts Internet Garage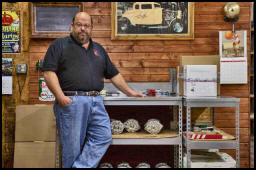 Since 1987, Fifth Avenue owner, Randy Rundle, has been making antique, classic and special interest vehicles more reliable and fun to drive.
We have provided services for the cars entered in the Great Race; we have done it for the movie studios, and we have even done it for the Queen of England.
So please, consider this your personal invitation to tour our Internet Garage. Feel free to wander around, peek in all of the corners, and spend some time reading about some of our past adventures. We will provide you with the same personal service that we provide to all of our customers.
"Garage Tech" with Randy Rundle
Join Randy as he shares his 30 years of antique vehicle knowledge on such subjects as the Borg Warner overdrive transmissions (the top ten things you need to know if you own one…) and what to do with your dash gauges when you upgrade your electrical system to 12-volts, and much more. To read "Garage Tech" pages, CLICK HERE.
Like most garages that have been around for a while… we have an inventory of antiques, collectibles, and automobilia related items that are either duplicates, or things we simply do not have use for. We are offering those items for sale here ...
CLICK HERE: to view what Mr. Haney has For Sale.
Now Available… "The Studebaker Special…"
You can thank the members of the Studebaker Drivers Club for this one…You can now buy "The Official Guide To Modern Gasoline And Oil For Antique Vehicles" and "Help! My Car Won't Start When It Is Hot ! " both books together for $25.00 and free shipping.
Both of these books have become top sellers thanks in part to the Studebaker Drivers Club who purchased enough of them that they asked for a discount. Now we are offering the same discount to you. Simply ask for the "The Studebaker Special." Keep in mind that if you buy either book individually the cost is the regular price of $15.00 each.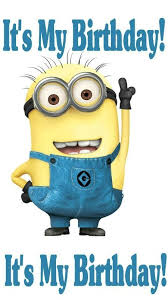 Fifth Avenue's gear driven electric fuel pump and the "Runtz" dash gauge voltage reducer both turned 25 years old in 2017. You don't get to hang around that long unless you are good at what you do.
Fifth Avenue's first product… the 6-volt alternator, turned 30 years old in 2017. The 6-volt alternator was invented in 1985 and went thru two years of testing before it got a part number in 1989.Well over ten thousand have been sold to customers in all 50 states, all of the provinces of Canada, and 23 foreign countries.
Bluetooth For Your Antique Vehicle And Daily Driver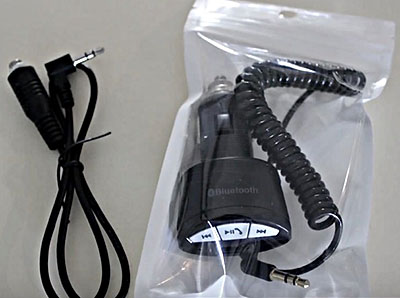 Many of us listen to music from our smart phones using apps like the Sirius XM radio app. Did you ever wish you could listen to that same music app in your antique vehicle or daily driver? Now you can with this bluetooth radio adapter. This adapter simply plugs into the cigarette lighter and a small cable plugs in to your radio's, "Aux" input port. Once you get your smart phone "paired" to the adapter you can also send and receive hands-free phone calls. And there is a USB port included so you can recharge your phone while you are using the adapter.
Also included is an extension cable in case your radio "Aux" input is in a hard to reach location. This Bluetooth adapter is designed to work with any 12-volt radio that has a "Aux" input which includes, most radios built after 1970. Once your phone is paired to the adapter (which takes less than 30 seconds) the whole system becomes portable and you can move it from vehicle to vehicle.
Part Number 17415BTA. $65.00 each
Click here for more information
Satisfied Customers Respond!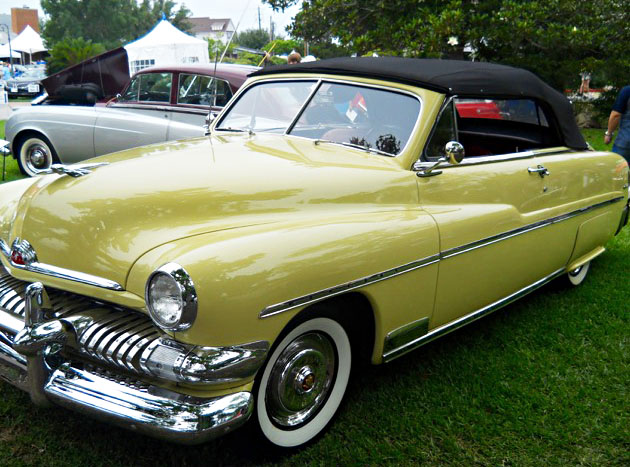 Randy...the books I bought on "Gas-Oil" and "Hot Start" are priceless and have saved me a lot of headaches...I converted my entire ignition to copper ( most particularly the dist cap ) & the performance improvement is unbelievable in a 66 yr old stock flathead v8. Also, switched oil brands, added zddp and the engine is so quiet its hard to tell at a distance if its running its so quiet.

You did a great service to the antique car crowd and I can't say enough to compliment you on the value of these books. My Rundle library is among the most valuable tools in my shop. Well done ...you are the man ! Buddy

James McGraw
Friendswood, Texas


HD Power Block
This HD Power Block has six individual separate circuits available. Each circuit has a 30 amp max rating. The Power Block has a 65- amp total max rating. The red battery cable is (22") in length. This Power Block works well when adding a modern stereo, Ipod, GPS, or cell phone charging power source to an antique vehicle's electrical system. By connecting this power block directly to the battery your accessories will be protected from voltage spikes and power surges.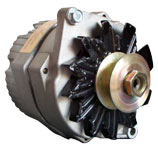 6-volt Alternators
Standard 6-volt alternator. Output is 60 amps, 7.5 volts and features a solid state internal regulator. A "DA" plug is also included.
Electric Radiator Cooling Fans…What You Need to Know…
All electric cooling fans seem to look alike with the only difference being the price. Are they really all the same…? Read on…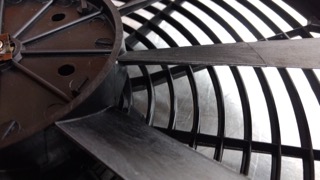 When shopping for an electric radiator cooling fan one of the first things you need to look at… is the pitch of the blades, and how many there are. As common sense would tell you the more blades the more air the fan will move. But that only works if the pitch of those blades is aggressive (or angled steeply) to move the air. But…the steeper the pitch and the more blades there are…the larger the motor will have to be to spin those blades. If a fan has a lot of blades but the pitch of those blades is flat… you will get the riverboat paddle wheel affect where the fan will make a lot of noise but not move much air, like a riverboat paddle wheel.
Which brings us to the fan motors. The majority of aftermarket electric radiator cooling fan motors are bushing motors. They are less expensive to manufacture will have slightly less horsepower and require more electricity from your charging system.
Visit Garage Tech to Learn More About Radiator Cooling Fans

Tech Tip
We developed the original "Runtz" in 1992 and it is still proudly made in the USA. Often poorly imitated, be sure what you buy is the real thing.

Heater Blower Motor Voltage Reducer
Don't forget the Heater Blower

Motor Voltage Reducer when you are upgrading to 12-volts.
Whisk Hand Soap Dispenser and Refill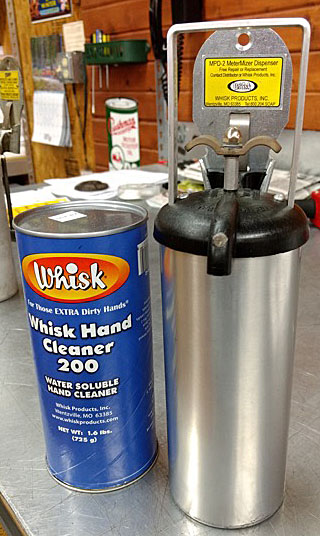 Introduced in 1940 this Model PD-2 hand soap dispenser is still proudly made in the USA. 32 oz refills also available.
To order this dispenser and /or the refill, visit our new section: Shop/Garage
Visit Garage Tech to Learn The history of this dispenser and the Whisk Company

Remote Battery Stud
This remote battery stud will allow you to establish a remote battery or ground connection at almost any location. When adding multiple accessories and especially any solid-state accessories it is good idea to ground those accessories direct to the battery. Because most antique vehicles are more than forty years old, the accumulation of dirt, oil, grease, and rust makes it difficult to establish a good ground thru the body or frame. This Remote Battery Stud is rated at 200 amps.
Heavy Duty Headlight Relays

Available for both 6 and 12-volt applications. Installing a headlight relay will provide up to 30 percent brighter headlights and a 50 percent longer service life for the original headlight switch.

When was the last time you cleaned the inside of your cooling system…?
Fifth Avenue Sponsored 1916 Hudson Wins 2015 Great Race, Sharp Racing Team Collects $50,000 in Prize Money.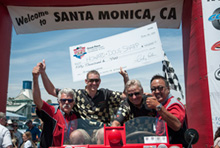 The 2015 Great Race started on June 20th in Kirkwood, Missouri (St. Louis) and traveled down old Route 66 highway arriving nine days later at the pier in Santa Monica, California. Along the way the teams encountered drenching rains in Missouri, blustery winds in Oklahoma and blistering heat in Arizona. The 1916 Hudson the Sharp team drove is an open cockpit race car, so they got to experience the weather firsthand which makes their win even more amazing! Read more
The Great Race...How It Works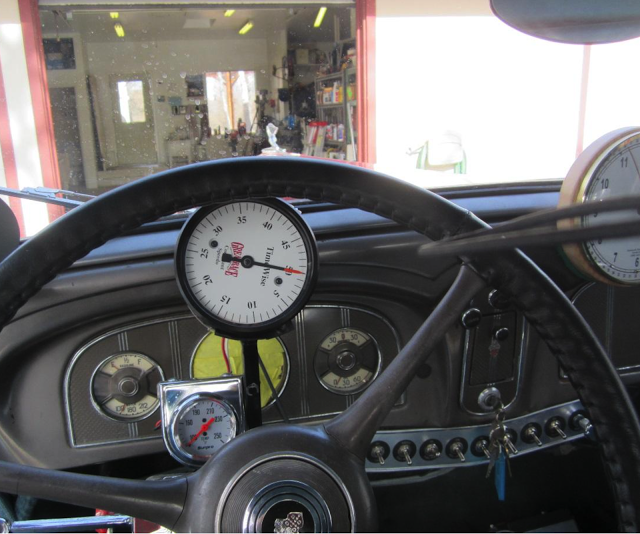 The Great Race is a timed / distance rally for antique vehicles. The teams consist of a driver and a navigator who together must follow a specific set of instructions that give them a specified route to be driven (each day for nine days) at a specified speed (both of which will change a dozen times an hour) and all without the use of the vehicle's factory speedometer, or odometer.
To be sure they are on time (there is a penalty for being either early or late) the teams are clocked at various hidden checkpoints, where their driving accuracy is measured down to 100th of a second. Any mechanical breakdowns during the day must be fixed with no outside help… Read more
A Gear Driven
Electric Fuel Pump
Available for both 6 and 12 volt applications. They are gear driven and will pump alcohol and all fuel additives.
CLICK HERE for ordering information.
12/14/16
After reading your tech article in the Oct. 2016 Early Ford V-8 club newsletter I ordered one of your gear driven electric fuel pumps for my '35 Ford Phaeton. I was using a Holley diaphragm fuel pump that reminded me of its presence every minute I drove the car. The gentle hum of your gear driven pump is a joy and the frame rail installation was a cinch. This took my Phaeton from a good cruiser to a great one.
Thanks,
Henry Kaldenbaugh