The following story appeared in a special edition of the The Clay Center Dispatch. The town of Clay Center Kansas holds an annual fall festival highlighting the history of the community. The Clay County Medical Center in just 4 months time restored this 1947 GMC Step Van (with a little help from Fifth Avenue) and turned it into an ambulance. Here is the story as from the local newspaper....
CLAY CENTER DISPATCH -- "From Antique to Unique, 70 years of Piotique" inspired the "CECIL" project at the hospital. In July, the executive committee discussed some ideas for a float in the Piotique parade. Discussion naturally focused on the way things looked and were done at the hospital seventy years ago.
Tyce Young, Director of Nursing, tossed out the idea of having an old ambulance in the parade. That evolved into his offer of donating a vehicle and turning it into an ambulance. Everyone laughed at first and then the brainstorming began in earnest when considering its additional use for civic events, parades and educational tours.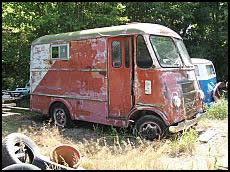 This was how the 1947 GMC Van looked when they started.
In depicting that era, we knew the old pieces of surgery equipment, nurse's uniforms and photographs that have been preserved in the museum would be a great resource. Cathy Haney, Curator of the museum, spent an afternoon with Marcia Newell, Director of Marketing and Tyce while they went through old photographs looking for early pictures of the hospital, nursing school and ambulances.
Cecil was moved from Idana to Clay Center with assistance from Bill Barss, Director of Engineering. On the way to town, Cecil had a flat tire along Highway 24. Luckily, Danielle Koppes, RN and employee at CCMC, and her husband drove by and were able to tow Cecil to the hospital. Interest in Cecil was immediate. Before Mr. Bender and Tyce started sanding off the five layers of paint, employees were asking what was going on across the street and what they could do to help.
An interesting bit of history on CECIL – In 1997, Brian Komar and Tyce Young spotted Cecil sitting in town behind a garage in town. They were interested in him, so went to visit Randy Rundle, Fifth Avenue Antique Auto Parts to see if he knew who owned him. Cecil is a 1947 GMC one-ton, baker's delivery truck. It was probably the only one of its kind within a ten state radius. As luck would have it, Randy was the owner and a deal was struck – a trade with Tyce for a 1957 Volkswagen bug. If anyone knows Tyce, you would have to know Cecil had value or he would never have given up a VW!
Much to the chagrin of his neighbors, Cecil was towed to the Young home. Within the week, Brian and Tyce had Cecil running. Cecil could run, but he couldn't stop – no brakes. However, that didn't deter the duo from taking him for a ride. They started down Seventh Street with Tyce at the wheel in granny gear and Brian standing in the cab holding a funnel and a gas can, pouring gas to the carburetor! Tyce's dog, Pete couldn't ride in the truck because there were so many holes in the floor, they were afraid he would fall through to the street.
Both Brian and Tyce were employees of the hospital and thought it was only fitting that the maiden voyage include driving past the facility. They returned home on Liberty to avoid being noticed on the highway. Since that time, Cecil has been living in Idana, housing Volkswagen and Porsche parts. (He was also home to various families of wasps, hornets and mice until moving to town.)
The words to the song, "One Piece at a Time", sung by Johnny Cash best explain what has happened with Cecil.
I'd get it one piece at a time And it wouldn't cost me a dime
You'll know it's me when I come through your town….
Cause I'll have the only one there is a round.
Cindy Jones, RN brought in two tires from a Dodge pickup. The next day, Kim Harding, Supervisor of Housekeeping and her husband Todd donated four more tires to the project from a full sized Chevy. (Now, Cecil even has spares) Nancy Hess, CNA and her husband, Elton donated parts from a semi truck's sleeper cab. Tyce Young, DON took parts from his 66 VW and Ron Bender; CEO took parts from his 88 Lincoln.
Randy Rundle has made donations of time and knowledge as well as swapping parts with and donating the use of a wonderful siren. He donated taillights, dome lights and driving lights to Cecil as well. With Tyce's help, Marcia & Jeff Newell were able to purchase NOS lights for the sides and a light for the top off of E-bay. Gail Jones donated time in the evenings scraping paint on Cecil's interior. Jeff Newell and Patti Bender primed the entire wood interior. Kyle Wilder donated his shop and a sand blaster to help in preparation of Cecil's wheels. Cindy and Brady Rush shopped for upholstery, cut patterns off of the old seat covers and reupholstered the driver's seat. They also donated upholstered benches for the back area.
Daniel Deaver used his carpentry skills to build a divider with a door to separate the front from the back of the vehicle. He also made the back door for Cecil. Mr. Bender and Tyce, did the welding and grinding. One of Mr. Bender's sanders was so over-worked it died. If you have driven by the hospital any evening since the first of August, you have seen Ron and Patti Bender, Tyce Young and other helpers outside, plugging holes or beating the dents out of Cecil. Randy Rundle gave our CEO a new name, "Fender Bender". Ron and Patti Bender completed Cecil's painting the evening of Sept 20th and then moved Cecil to the home of Tyce and Crystal Young for the finishing touches on wiring, signage and engine tune-up.
It is absolutely impossible to list everyone who has given of his or her time and talents. We are grateful to those who stopped by after work and offered encouragement. The spirit of giving by hospital staff is second to none. There is never a shortage of employees willing to give of their time and talents. If interested in seeing additional pictures of the Cecil project, Lori Beikman has designed a photo album on the website homepage at ccmcks.org. Cecil was part of a winning entry in the Piotique Parade.