Welcome to Fifth Avenue Antique Auto Parts Internet Garage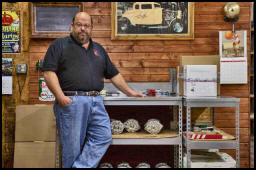 Since 1987, Fifth Avenue owner, Randy Rundle, has been making antique, classic and special interest vehicles more reliable and fun to drive.
We have provided services for the cars entered in the Great Race; we have done it for the movie studios, and we have even done it for the Queen of England.
So please, consider this your personal invitation to tour our Internet Garage. Feel free to wander around, peek in all of the corners, and spend some time reading about some of our past adventures. We will provide you with the same personal service that we provide to all of our customers.
"Garage Tech" with Randy Rundle
Join Randy as he shares his 30 years of antique vehicle knowledge on such subjects as the Borg Warner overdrive transmissions (the top ten things you need to know if you own one…) and what to do with your dash gauges when you upgrade your electrical system to 12-volts, and much more. To read "Garage Tech" pages, CLICK HERE.
Like most garages that have been around for a while… we have an inventory of antiques, collectibles, and automobilia related items that are either duplicates, or things we simply do not have use for. We are offering those items for sale here ...
CLICK HERE: to view what Mr. Haney has For Sale.
Now Available… "The Studebaker Special…"
You can thank the members of the Studebaker Drivers Club for this one…You can now buy "The Official Guide To Modern Gasoline And Oil For Antique Vehicles" and "Help! My Car Won't Start When It Is Hot ! " both books together for $25.00 and free shipping.
Both of these books have become top sellers thanks in part to the Studebaker Drivers Club who purchased enough of them that they asked for a discount. Now we are offering the same discount to you. Simply ask for the "The Studebaker Special." Keep in mind that if you buy either book individually the cost is the regular price of $15.00 each.
Advanced Formula Fuel Treatment & Stabilizer
This Advanced Formula Fuel Treatment & Stabilizer fights the harmful effects of water separation, and also contains corrosion inhibitors that form a protective barrier on metal parts to prevent rust and corrosion.
Detergents help prevent gummy build-up on engine parts. A metal deactivator works to stop the aggressive chemical reactions caused by dissolved metal ions in the fuel. Concentrated formula. Protects up to three years.
Satisfied Customers Respond!
Randy
Here's a picture of my '54 Vette. I've owned the car for 20 years, and just did a full frame off resto (myself) 2 years ago. It's an NCRS "Top Flight" car. It's a much more dependable car now with your 6-volt alternator.
Thanks again! Joe Ryan

HD Power Block
This HD Power Block has six individual separate circuits available. Each circuit has a 30 amp max rating. The Power Block has a 65- amp total max rating. The red battery cable is (22") in length. This Power Block works well when adding a modern stereo, Ipod, GPS, or cell phone charging power source to an antique vehicle's electrical system. By connecting this power block directly to the battery your accessories will be protected from voltage spikes and power surges.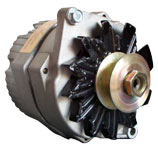 6-volt Alternators
Standard 6-volt alternator. Output is 60 amps, 7.5 volts and features a solid state internal regulator. A "DA" plug is also included.
Gas Tank Sealer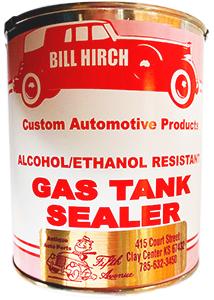 Its winter… its cold outside for most of us… and some of you lucky ones even have snow. So in honor of winter the next ten people who call can order the Bill Hirch Gas Tank sealer for $23.00 quart (that is less than half price and well below the $40.00 we pay for it) It's regular $55.00 a quart! The price in the parts section will not change and you need to call 785-632-3450 to place your order at which time Randy will let you know if you are one of the lucky ten. You want to say "winter snow" when he asks for the secret code. We are doing this as a way to find out who is paying attention to the website and who knows a bargain when they see one.
As review….this gas tank sealer will work on metal aluminum and even fiberglass tanks. It is alcohol resistant. One quart will do a twenty-gallon tank and you do not have to use it all at one time. You can use only a portion of the can then if you seal it up well it will be good for the next project. Shipping not included. We are doing 10 quarts only, one quart per customer. Call now!

Tech Tip
We developed the original "Runtz" in 1992 and it is still proudly made in the USA. Often poorly imitated, be sure what you buy is the real thing.

Heater Blower Motor Voltage Reducer
Don't forget the Heater Blower

Motor Voltage Reducer when you are upgrading to 12-volts.
Heavy Duty Headlight Relays

Available for both 6 and 12-volt applications. Installing a headlight relay will provide up to 30 percent brighter headlights and a 50 percent longer service life for the original headlight switch.
Whisk Hand Soap Dispenser and Refill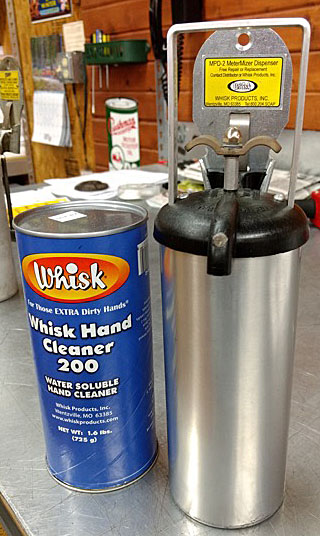 Introduced in 1940 this Model PD-2 hand soap dispenser is still proudly made in the USA. 32 oz refills also available.
To order this dispenser and /or the refill, visit our new section: Shop/Garage
Visit Garage Tech to Learn The history of this dispenser and the Whisk Company

Remote Battery Stud
This remote battery stud will allow you to establish a remote battery or ground connection at almost any location. When adding multiple accessories and especially any solid-state accessories it is good idea to ground those accessories direct to the battery. Because most antique vehicles are more than forty years old, the accumulation of dirt, oil, grease, and rust makes it difficult to establish a good ground thru the body or frame. This Remote Battery Stud is rated at 200 amps.
Killerglass Now Available

Killerglass is a tempered glass insert that is made to be permanently installed in a section of radiator coolant hose. It is 400% stronger than tempered Pyrex glass. You can use the Killerglass insert to identify things like head gasket leaks, water pump cavitation, poor coolant circulation, and engine oil in the coolant. Comes with two Gates SB heat activated clamps and install instructions.
Lifetime Guaranteed against breakage!
Fifth Avenue Sponsored 1916 Hudson Wins 2015 Great Race, Sharp Racing Team Collects $50,000 in Prize Money.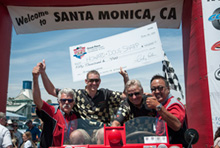 The 2015 Great Race started on June 20th in Kirkwood, Missouri (St. Louis) and traveled down old Route 66 highway arriving nine days later at the pier in Santa Monica, California. Along the way the teams encountered drenching rains in Missouri, blustery winds in Oklahoma and blistering heat in Arizona. The 1916 Hudson the Sharp team drove is an open cockpit race car, so they got to experience the weather firsthand which makes their win even more amazing! Read more
The Great Race...How It Works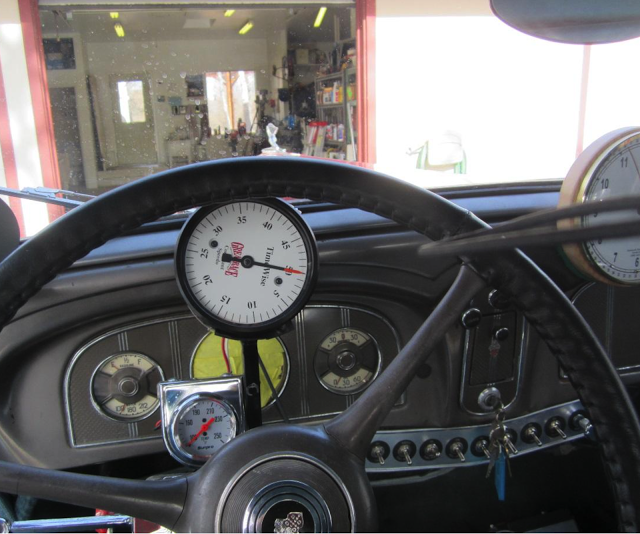 The Great Race is a timed / distance rally for antique vehicles. The teams consist of a driver and a navigator who together must follow a specific set of instructions that give them a specified route to be driven (each day for nine days) at a specified speed (both of which will change a dozen times an hour) and all without the use of the vehicle's factory speedometer, or odometer.
To be sure they are on time (there is a penalty for being either early or late) the teams are clocked at various hidden checkpoints, where their driving accuracy is measured down to 100th of a second. Any mechanical breakdowns during the day must be fixed with no outside help… Read more
A Gear Driven
Electric Fuel Pump
Available for both 6 and 12 volt applications. They are gear driven and will pump alcohol and all fuel additives.
CLICK HERE for ordering information.
12/14/16
After reading your tech article in the Oct. 2016 Early Ford V-8 club newsletter I ordered one of your gear driven electric fuel pumps for my '35 Ford Phaeton. I was using a Holley diaphragm fuel pump that reminded me of its presence every minute I drove the car. The gentle hum of your gear driven pump is a joy and the frame rail installation was a cinch. This took my Phaeton from a good cruiser to a great one.
Thanks,
Henry Kaldenbaugh